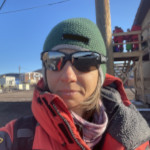 Graduated in Biological Sciences (2006) at Sapienza University, Rome and PhD in Ecology and Natural Resources Management (2013),Tuscia, University, Viterbo. She recently joined as researcher the CNR, Institute of Polar Sciences (2020) in Rome (Montelibretti) and she is lecturer in Remote Sensing and GIS for the Master Degree Course in Ecobiology at Sapienza, University, Rome.
Her scientific activities started with studies on the anthropogenic impacts in marine and coastal environments and in 2011 she joined the team of technical research collaborators at the Italian Institute for Environmental Protection and Research as an expert in ecology and geospatial application to environmental monitoring with a permanent position.
Her research spans from terrestrial to aquatic sphere and includes the use of remote sensing principles and methods in the field of ecology, geography and environmental sciences. She develops integrated models for ecosystem services assessment, natural capital estimation and natural resources monitoring, considering bio-geosphere cross scales interaction and addressing landscape spatial patterns and temporal process. She has experience in national and international research and capacity building projects, publications and dissemination in scientific contexts. She actively participates in the GEOBON Ecosystem Structure working group and in the technical roundtables supporting the European Copernicus and National Space Economy programs.