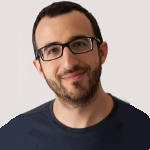 B. Sc. in Geological Sciences (University of Bologna, 2015) and M. Sc. in Geology and Land Management (University of Bologna, 2018).
He starts his research activity in 2018 at ISMAR-CNR in Bologna with an internship and then a fellowship, working on geochemical and biogeochemical analyses on marine sediment cores from the Adriatic Sea.
Currently employed as CTER at ISP-CNR in Bologna, he deals with biogeochemical analyses and the management of the organic geochemistry laboratory.
In September 2019 he started a PhD project in Polar Sciences at Ca' Foscari University of Venice. His project focuses on biogeochemical and sedimentological analyses of marine sediment cores from the Arctic and Subarctic region, to study the environmental variability, the carbon cycle and the glacial-interglacial cycles during the Late Quaternary.



http://orcid.org/0000-0002-8034-6049