The research activities carried out within the Thematic Area Contaminants and Ecosystems are aimed at studying the sources, transport dynamics, diffusion and fate of regulated and emerging contaminants, including micro/nano-plastics and trace elements, in polar ecosystems. These ecosystems are particularly sensitive to external perturbations, such as human activities and climate change. In fact, the Polar regions constitute the final sink for many pollutants emitted at mid-latitudes and transported on a regional and global scale (long-range) through atmospheric and oceanic circulation and migratory animals: all drivers influenced by the ongoing climate change. Global warming has also favored a growing anthropic impact in the polar areas due to the development of tourist activities, mining and maritime traffic with a consequent increase in the local input of contamination, including noise pollution. The direct and indirect effects of these changes combined with the different dynamics of contamination are causing the fragmentation and destruction of habitats, the alteration of aquatic and terrestrial food webs, as well as loss of diversity with repercussions also on Arctic populations.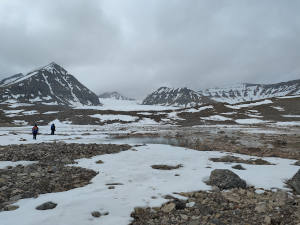 In this context, the multidisciplinary skills that converge in this Thematic Area constitutes an indispensable requirement for understanding the effects due to anthropic impact and climate change in polar ecosystems by following a One Health approach and aiming at a sustainable management of these vulnerable environments in the near future.
The main lines of investigation refer to the following areas: development and optimization of highly sensitive analytical methods for the detection of pollutants in the abiotic and biotic environmental compartments, understanding of transport and distribution processes in ecosystems, evaluation of the interactions with biota and the ecological effects, study of the capability of ecosystems to adapt and respond to contamination.

Main ERC panels:
• LS8 - Environmental Biology, Ecology and Evolution
• PE4 - Physical and Analytical Chemical Sciences
• PE10 - Earth System Science

Referents: Elena Barbaro, Maria Papale, Luisa Patrolecco, Francesca Spataro

Contact: info-impacts AT isp.cnr.it
Sottotematiche
Legacy and emerging polluntants
From the development of analytical methods to the study of environmental processes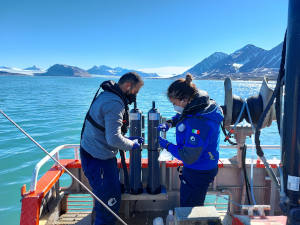 Despite the geographical isolation and limited human presence, polar regions are strongly affected by long-range transport leading to the dispersion of pollutants emitted in low and medium latitudes and on a local scale. Scientific research efforts have allowed the collection of long-term data on the presence of heavy metals and persistent organic contaminants (POPs) in the Arctic; however, there are still no systematic monitoring programs for such compounds in Antarctica.
More recently, attention has been focused on new classes of contaminants, defined as emerging, because they are not yet included in current regulations. The effects of these compounds on the organisms and environment are still not fully known. The determination of the occurrence of these substances in the environment and the evaluation of their effects on ecosystems is an important scientific challenge, especially considering their different chemical-physical properties and the continuous production of new formulations. Since many emerging contaminants are bioactive molecules with potentially harmful effects on the organisms and environment even at low concentrations, the development of suitable monitoring programs has crucial importance. The Arctic Monitoring and Evaluation Program (AMAP) has indicated that the risk due to the presence of emerging chemical pollutants but also the more investigated persistent organic pollutants (POPs) and mercury at the poles is still very high. Therefore, it is of priority interest to deepen the knowledge of this issue in the polar areas.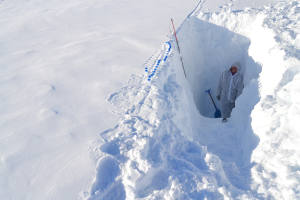 The main research activities concern:
• Optimization, and standardization of analytical methods for the determination of legacy pollutants (e.g. PAHs, PCBs, PBDEs, organo-chlorinated pesticides, etc.), emerging (e.g. pharmaceutical residues, fragrances, perfluorinated compounds, new generation pesticides, etc.) compounds and their metabolites/transformation products. Suspect screening analysis (performed when there is evidence/information that a given structure could be present in the samples) and non-target screening (analysis of all detected components, when no preliminary information is available).
• Development of chemical speciation methods for the identification of biologically active species or species produced by photochemical reactions.
• Continuous and long-term monitoring of organic and inorganic contaminants transported by atmospheric (Gruvebadet - Aerosol laboratory) and oceanic currents (Mooring) via permanent platforms.
• Studies on bioconcentration / biomagnification in the food web (screening assessment); evaluation of antibiotic susceptibility profiles of bacterial strains isolated from water/sediment.
• In-situ and real-time monitoring of organic and inorganic contaminants by using biosensors.
• Development and application of metabolomic analysis in environmental matrices for the study of degradative processes that determine the production of potentially polluting metabolites; this approach makes it possible to identify the presence of unknown pollutants and to relate them to the biological processes taking place in the system.
• Laboratory scale studies (e.g., microcosm and batch) to evaluate biotic and abiotic (chemical and physical) degradation processes (DT50 calculation), formation of metabolites and transformation products, and bioaccumulation in target organisms (vegetable and animal species).
• Optimization, standardization and validation of innovative biotechnologies for the in situ bioremediation and bio-mitigation of environmental matrices impacted by organic and inorganic contaminants.

Main ERC Panels:
• PE4_5 - Analytical chemistry
• PE4_7 - Chemical instrumentation
• PE4_9 - Method development in chemistry
• PE4_18 - Environment Chemistry
• PE10_1 - Atmospheric chemistry, atmospheric composition, air pollution
• PE10_8 - Oceanography (physical, chemical, biological, geological)
• PE10_9 - Biogeochemistry, biogeochemical cycles, environmental chemistry
• PE10_17 - Hydrology, hydrogeology, engineering and environmental geology, water and soil pollution
Projects
• A-PAW
• BEOI
• BC14
• BIP - Benthic filter-feeding Invertebrates from the Arctic as accumulators of Pollutants and tolerant bacterial communities
• CIRCE - SearChIng for EmeRging Contaminants in Sub-Arctic rivErs
• ECO AS:TRA - Emerging COntaminants in Antarctic Snow: sources and TRAnsport
• ImpAct - Input Pathways of persistent organic pollutants to AntarCTica
• LASAGNE
• PHARMASVALBARD
• PROPOSE
• ROss'n'Roll Ross Sea ecosystem and emerging contaminants: new challenges and potential threats in a changing world
• SNOW-BALL - Mercury concentration and tolerant microorganisms in Arctic SNOW: new Bioremediation chALLenges
• TUNU - Euro-Arctic marine fishes – diversity and adaptation