Changes and evolution of polar systems: processes, feedback mechanisms and interactions on a global scale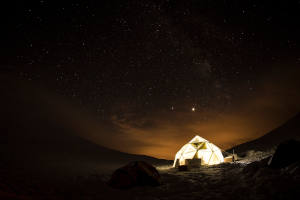 The Earth system is highly interconnected. In this thematic area research activities are aimed at deepening our understanding of the processes and interactions among the different components of the climate system and assessing its responses to global changes. A more comprehensive and holistic understanding of the polar system is needed to guide future climate policy decisions. The knowledge of the characteristics of the polar atmosphere is crucial for studying the biogeochemical cycles of natural chemical species, the long-range transport processes of pollutants and climate-altering compounds and the feedback mechanisms triggered by the atmospheric warming and the interaction of the atmosphere with the cryosphere and oceans.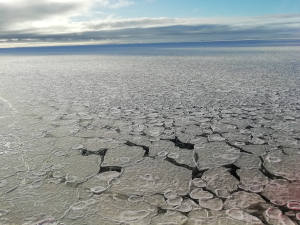 The cryosphere constitutes a very fragile portion of the Earth system, made even more vulnerable by climate change. Through multidisciplinary and interconnected research activities, the study of snow and ice, their chemical composition and their main physical parameters, the evolution of the permafrost and the increased melting impact on the atmosphere, biosphere and hydrosphere at both regional and global levels is being pursued.
The hydrosphere consists largely of the oceans, which influence the Earth system in all its spheres by storing and redistributing fresh water, heat, climate-altering gases, and other particulate and dissolved substances. Oceanographic research supports more accurate predictions of global changes by studying the chemical and physical properties of seas and oceans, their movements, energy exchanges with the atmosphere, the organisms that inhabit them, and the geological structure of ocean basins. Polar limnological environments are studied as both sentinels of climate change and to investigate the responses of their short trophic net to these changes, including anthropogenic perturbations.
Polar ecosystems are an important reservoir of natural resources and can partly mitigate the effects of climate change from which they are threatened today. The study of biodiversity and resilience to global changes with an ecosystem approach, integrating the influence of environmental factors, community-level interspecific relationships, and socio-economic aspects is a challenge for effective and sustainable management of natural resources.
Main ERC Panels:
• LS8 - Ecology, Evolution and Environmental Biology
• PE4 - Physical and Analytical Chemical Sciences
• PE10 - Earth System Science
• SH2 - Institutions, Values, Environment and Space
• SH7 - Human Mobility, Environment, and Space

Referentes: Nicoletta Ademollo, Maurizio Azzaro, Fabiana Corami, Federico Giglio, Stefania Gilardoni

Contact: info-polarchanges AT isp.cnr.it

Sub-themes
Atmosphere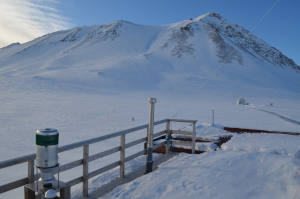 The atmosphere as an environmental matrix proves to be a medium of rapid global dispersion of climate-altering compounds and pollutants. Various compounds characterize the atmosphere; among these, climate-altering compounds, i.e., greenhouse gases that affect the Earth's energy and heat balance, and atmospheric aerosols, are of relevant interest. Due to its characteristics of stability and thermal inversion and the presence of the polar vortex, the polar atmosphere is an ideal observatory to be able to assess the energy exchanges and interactions of various phenomena with atmospheric circulation, including at different spatiotemporal scales, transport to high latitudes, aerosol composition, and biogeochemical cycles of the natural chemical species and pollutants present. Atmospheric aerosols play a key role in human-induced climate change because they influence the planet's radiative budget (absorption and scattering of solar radiation and surface albedo), cloud formation, and properties. In particular, atmospheric aerosols influence and amplify climate change. Atmospheric particulate matter consists of particles of natural origin (volcanic eruptions, fires, ocean emissions, resuspension of soil dust) and particles of anthropogenic origin (industrial emissions, combustion processes, micro- and nanoplastics). It is critical, thus, to identify chemical, biochemical, and biological tracers to study the origin and composition of polar aerosols and understand their climatic feedback. Although present in trace amounts, organic compounds, black carbon, sea salt, and microplastics (< 100 µm) may act as cloud condensation nuclei, thereby affecting albedo and precipitation, as well as radiation budget and climate. Black carbon, microplastics, and dust could also act as ice-nucleating particles.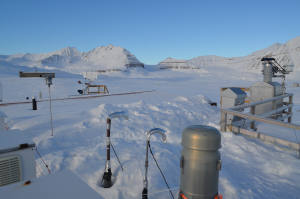 The presence of these particles in the atmosphere and sea ice impacts albedo and can alter sea ice permeability and solar radiation absorption with feedback on sea ice melt. In a rapidly changing polar area like the Arctic, microplastic pollution adds to the effects of climate change in terms of sources, transport processes, feedback, and ecological consequences. Other stressors present in atmospheric aerosols may include medium volatile organic compounds, water-soluble compounds, phenolic compounds, and trace elements. The presence of chemical stressors affects the physical dynamics of the atmosphere, mainly through interaction with both solar and terrestrial radiation, helping to amplify the increase in air temperature, which in turn impacts sea ice melting, humidity, cloudiness, and precipitation, significantly affecting the climate system. Monitoring the physical parameters and processes and the dynamics of the atmosphere through the use of various measurement methodologies (including remote sensing) is essential for the in-depth understanding of the synergies between the various components and for developing increasingly efficient weather-climate forecasting models. It is necessary to study in depth all the processes that characterize the atmospheric boundary layer to improve the quality of the results of weather and climate forecasting models.
Main ERC Panels:
• LS8 - Ecology, Evolution and Environmental Biology
• PE4 - Physical and Analytical Chemical Sciences
• PE10 - Earth System Science
• SH2 - Institutions, Values, Environment and Space
• SH7 - Human Mobility, Environment, and Space

Projects
• BETHA-NyÅ - Boundary layer Evolution Through Harmonization of Aerosol measurements at Ny-Ålesund research stations
• CAIAC ( oCean Atmosphere Interactions in the Antarctic regions and Convergence latitude)
• CASSANDRA - AdvanCing knowledge on the present Arctic Ocean by chemical-phySical, biogeochemical and biological obServAtioNs to preDict the futuRe chAnges
• CCAC (Chemical Composition of Aerosol in Clouds)
• ELENO - Habitat templatE, microbiaL signaturEs and icoNic life in a changing Arctic Ocean
• MIST-CA2 - Quantification of the Mixing state of Carbonaceous Aerosol in the Arctic