MDI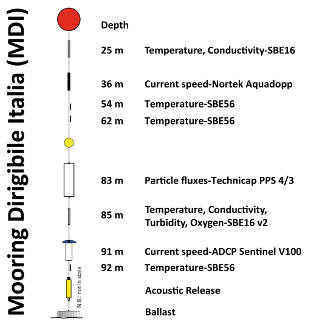 A permanent instrumented mooring has been installed in the inner part of Kongsfjorden (Svalbard Islands) at a depth of about 100 m with the aim of studying the intensity and composition of the flows of particles falling to the sea bottom, while monitoring the main physical properties of the water column. The mooring called Dirigibile Italia (MDI) was first installed in September 2010 and is serviced annually. The data acquired and stored by the various instruments are downloaded during maintenance, checked for QA/QC and uploaded to the Italian Article Data Center (IADC).
A 10-year time series of data for climate purposes is currently available.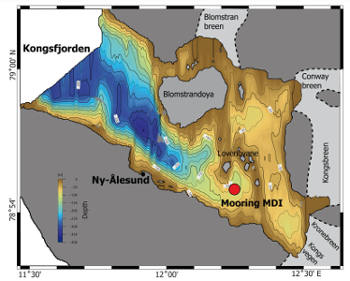 MDI allows us to continuously monitor the variations of the thermohaline characteristics of:
a) surface water from glacier melting;
b) intermediate water that derives from the intrusion of Atlantic-type water;
c) bottom water produced locally during the winter.
Furthermore, through the collection of particulate matter, information is acquired on sedimentary processes and interactions between water and particulate matter with microzooplankton, glaciers and coastal runoff. The complex interplay between the processes that drive the input of native (marine) and alien (terrestrial) particles into Kongsfjorden has now been understood, some interpretations of possible future changes in particle flows for Arctic fjords in a warming scenario global can be suggested.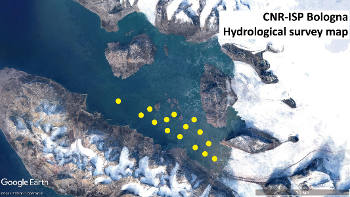 The oceanographic sensors on MDI are positioned along the mooring at different levels in the water column. The list of measured parameters includes:
- water temperature at 25, 36, 54, 62, 85 and 92 m
- speed and direction of currents at 37 and 93 m
- conductivity / salinity at 25 and 85 m
- turbidity and dissolved oxygen at 85 m
- total mass and particulate organic carbon flows at 83 m.
A hydrological survey is also performed every year, mainly during the summer, to obtain a seasonal picture of the spatial distribution of the different water masses in the fjord. For this purpose, a grid of about 15 stations is repeatedly measured for the main chemical-physical characteristics of the water masses: temperature, conductivity and turbidity.