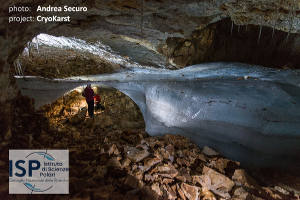 2 Dicembre 2021
Le attività di ricerca sulla criosfera sotterranea nelle aree carsiche di alta quota del Friuli Venezia Giulia saranno realizzate all'interno del progetto CryoKarst (Cryosphere in the Karstic environments of Friuli Venezia Giulia) grazie ad un accordo operativo stipulato tra l'Istituto di Scienze Polari (CNR-ISP) ed il Servizio Geologico della Regione Autonoma Friuli Venezia Giulia.
Il progetto ha tra gli obiettivi primari lo sviluppo di tecniche di rilevamento in ambienti glaciali ipogei e l'implementazione del catasto speleologico regionale attraverso la revisione del Catasto stesso, la stesura di un protocollo di rilevamento, l'organizzazione di eventi formativi, il monitoraggio e studio delle interazioni clima-criosfera negli ambienti glaciali sotterranei dell'area pilota del Monte Canin (clima, paleoclima, geomorfologia ed evoluzione del permafrost), lo sviluppo e la sperimentazione di tecniche SfM.MVS per l'esecuzione di rilievi tridimensionali e l'evoluzione dei depositi nel corso del tempo.
Collaborano al Piano delle Attività anche la Società Meteorologica Alpino-Adriatica ed il Parco Naturale delle Prealpi Giulie, oltre ai gruppi speleologici del Friuli Venezia Giulia. I responsabili scientifici del progetto sono Renato R. Colucci (CNR-ISP) e Paolo Manca con Michele Potleca per il Servizio Geologico della Regione Autonoma Friuli Venezia Giulia.