The oceans and the polar seas are studied for their physio-chemical and biological properties, their water mass circulation patterns, their exchange of heat and energy with the atmosphere and the geological processes that are active in the different oceanic basins that contribute to the deposition of marine sediments.

Scientists at the Institute of Polar Sciences deal with several aspects of oceanography in the polar seas:
Physical and chemical oceanography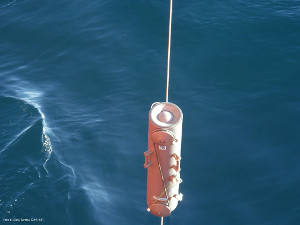 The polar oceans are one of the most important elements driving global climate. Dense and cold waters produced at high latitudes spread throughout the oceans and contribute to the global ocean Conveyor Belt. These water masses transport both heat and dissolved substances, gases and particles around the globe, significantly affecting the overall composition of the oceans and, ultimately, the Earth's climate. The chemical composition of water masses flowing in the polar seas, including their trace elements, organic compounds, stable and radiogenic isotope composition, allows us to evaluate the relationships between the different water masses (e.g. old vs. recently ventilated waters) and improve our understanding of the underlying processes. These data will then be used by climate modelers to tune and refine model parameters to improve understanding of the interactions between the water masses and improve our knowledge of the overall global climate system.