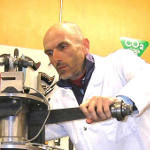 Degree in civil hydraulic engineering (1982), PhD Geological Sciences (2008) both at Padua University. 1990-2019 Researcher at Consiglio Nazionale delle Ricerche (National Research Council of Italy) at the Research Institute for Geo-Hydrological Protection (CNR–IRPI).
Presently tchnologist at the Institute of Polar Science (CNR-ISP).
His working experience includes field monitoring and laboratory studies on debris flows and landslides, particularly on triggering and deposition phenomena, also from the rheological point of view. Research experience includes hydrology of flash floods and related landslides triggering. Recently his interests include also the mechanics of rock avalanches.
He took part in several international research projects and worked for three years in New Zealand, at the Lincoln and Canterbury Universities, working on debris flow and rock avalanches physical and numerical modelling. He has also been in charge of the computer network of the IRPI Padova institute.



http://orcid.org/0000-0002-9882-5566 WoS Researcher ID: J-5670-2015 Research Gate